UK companies can claim up to 33% of 'R&D' expenditure back from HMRC, every year. 'R&D' often constitutes work that some companies consider regular, day-to-day activity. Your time is precious, which is why Sprint Claims is as quick and unobtrusive as possible:
You'll be assigned an experienced Senior Consultant to manage the entire process.
We'll arrange an online workshop to understand your business and processes, and identify R&D activity.
We'll review your financial data and write a robust, comprehensive R&D incentive claim.
All this happens in less than a week. After submission, HMRC will review and approve your claim, and four weeks later you'll receive payment.
The process was quick and hassle-free, meaning that we could get back to focusing on the business, while Ayming took care of the detail of our claim with HMRC.

Michelle Knight, Finance Manager, Kaizen Furniture
---
How does Sprint Claims work?
Every race is won with teamwork and preparation. And our Sprint with you is no different. The better we collaborate the quicker we reach the finish line. And the quicker you receive your benefit from HMRC.
Our commitment to you:
A dedicated team to manage your Sprint Claim
An optimised claim delivered in less than a week
A robust approach to ensure compliance with HMRC requirements.
In return we ask that you make the following commitments:
You and your technical team are available and prepared for an initial briefing call on day one and a 2 hour online technical interview on day three
Have your financials ready for us to work with
You are available for queries throughout the week.
With commitment from both of us we can produce a high quality piece of work, faster and more reliably than any other UK provider.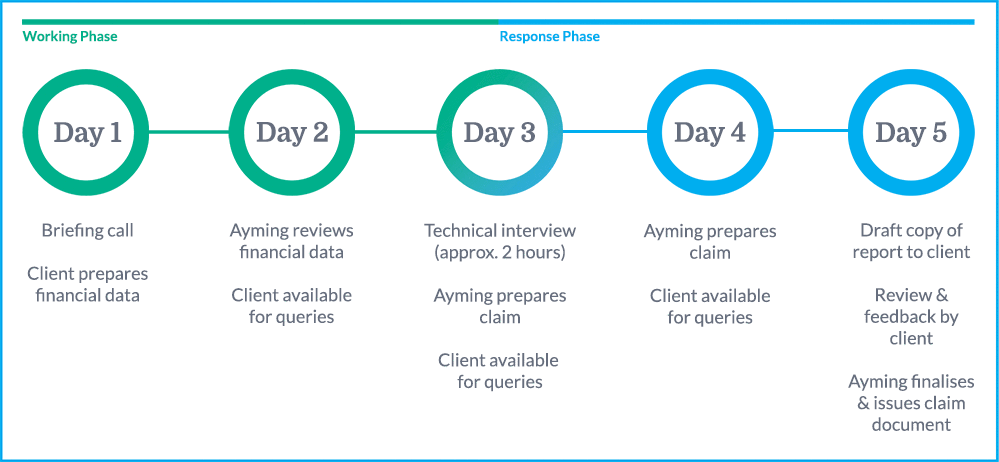 On your marks…
The UK Government's R&D incentive scheme allows companies to claim back up to 33% of every pound spent on qualifying R&D activity. So, if you're using creative solutions to problems then it's likely you could be claiming. In short, Sprint Claims is a fantastic way to get a quick cash injection into your business.
For more information on Sprint Claims and how R&D incentives can help your business, get in touch today.
Ayming's process for completing our R&D claim was quick and efficient. This meant that we were able to recognise the tax benefit from HMRC in a matter of weeks.

Ann Marie McIntyre, Business Development Manager, WBD Group