Whether you're completing your claim in-house, through an accountant, or with an R&D specialist, the time cost of preparation and submission can be high, taking up valuable resources that could be better spent elsewhere. That's why we developed our supercharged Rapid Claims service, designed to significantly reduce the time and cost required to complete your claim.
With Rapid Claims, we can complete your R&D tax credit claim in just one week, with minimal involvement on your part. Our light-touch approach means that your team can stay focused on their day-to-day responsibilities while we manage the entire process for you. You'll be assigned a senior consultant with experience in your sector who will manage the whole process from start to finish. With their expertise, we ensure we don't compromise quality for speed.
Rapids Claims is powered by Ayming Express, our straightforward online R&D tax claims portal.
---
A new approach to R&D tax
In just one week, we'll capture any R&D you might be undertaking and compile a robust, comprehensive claim report for you to include in your corporate tax return. We'll keep your involvement to a minimum to ensure you can focus on running your business.
We'll provide:
A dedicated team to manage your Rapid Claim
An optimised claim report delivered in less than a week
A robust approach to ensure compliance with HMRC requirements.
Your involvement:
You and your technical team are available for an initial briefing call on Day 1 and a short technical interview on Day 3.
You'll have your financials ready for us to work with by Day 2.
You're available for quick queries throughout the process.
By cutting down on meetings and committing to a minimum level of collaboration, we can produce a high-quality report faster and more reliably than any other UK provider.
How does the Rapid Claims process work?
We designed Rapid Claims to be fast, efficient, and hassle-free. We'll work with you to gather all the necessary information about your R&D activities and costs. Our experienced consultants will then analyse and prepare your claim, ensuring an accurate and comprehensive representation of your activity.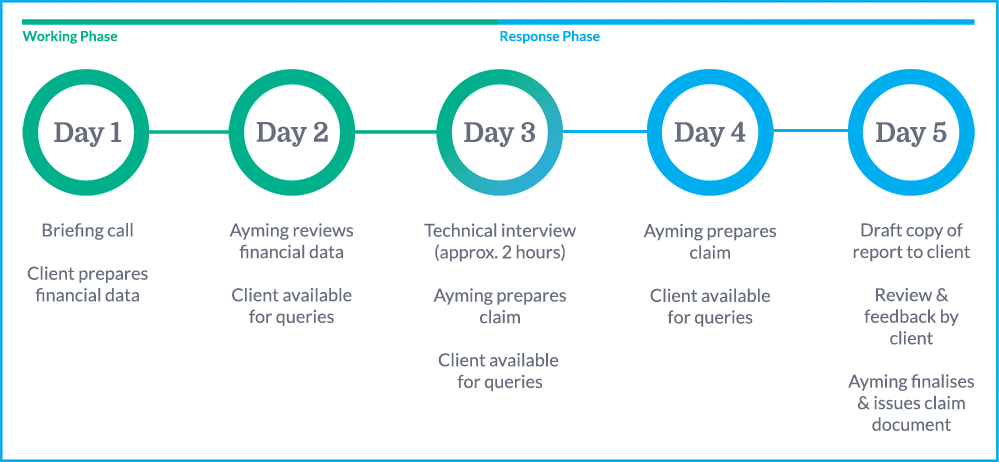 Here's what our clients say…
The process was quick and hassle-free, meaning that we could get back to focusing on the business, while Ayming took care of the detail of our claim with HMRC.

Ann Marie McIntyre, Business Development Manager, WBD Group
Ayming's process for completing our R&D claim was quick and efficient. This meant that we were able to recognise the tax benefit from HMRC in a matter of weeks.

Michelle Knight, Finance Manager, Kaizen Furniture