Ayming has been appointed to the Management Consultancy Framework 2 (MCF2) of the Crown Commercial Service (CCS).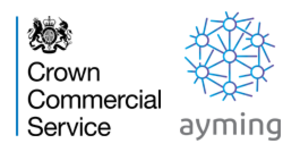 4th September, 2018 – Ayming, the international business performance consultancy, has been appointed to the Management Consultancy Framework 2 (MCF2) of the Crown Commercial Service (CCS).
MCF2 was launched to provide wide-ranging consultancy advice for the public sector in a compliant and cost-effective way from trusted suppliers. Due to current scrutiny in public spending, the Government is constantly looking to improve the operational and cost efficiency of public organisations to ensure the tax-payer is getting the most for their money. All consultancies need to be vetted for public contracts but those appointed to MCF2 are preapproved.
This appointment follows the success of Ayming's prior work on major public sector consulting projects, including with the London Ambulance Service NHS Trust, Tower Hamlets London Borough Council and Great Ormond Street Hospital for Children NHS Foundation Trust (GOSH) – for which Ayming was shortlisted for a Management Consultancies Association (MCA) Award and a Chartered Institute of Procurement & Supply (CIPS) Supply Management Award. Ayming will now be able to build on this success with greater ease.
Alejandro Alvarez, Partner, Operations Performance at Ayming UK commented, "MCF2 helps to ensure that public sector organisations are buying consulting services in the most efficient way possible, so we're pleased to have secured this stamp of approval. Our appointment to this framework will directly drive public sector work for our operations performance department, allowing us to grow that part of our business. It's an endorsement of our abilities as a consultancy and we're looking forward to working on more public projects."
-ENDS-
Notes to Editors
Ayming is a leading international Business Performance consultancy and has a global footprint. The Group is present in 17 countries: Belgium, Canada, China, Czech Republic, France, Germany, Ireland, Hungary, Italy, Japan, Netherlands, Poland, Portugal, Spain, Slovakia, the UK and USA with a staff of approximately 1,400. In 2017, it achieved a turnover of €157m.
In the UK Ayming helps businesses to improve their financial and operational performance through innovation, tax and procurement, supply chain, working capital and operational efficiency services.
Contact
Annabel Rivero, Aspectus Group
+44 20 7242 8867