The UK government has made significant changes to the R&D tax incentive schemes. Whilst these changes were designed to make it easier and more attractive for businesses to invest in R&D, there are some potential new barriers and sticking points. Ayming's mission is to make it as easy as possible for UK businesses to benefit from their R&D projects. So, we've created the infographic below, which breaks down the key changes clearly and concisely.
The infographic covers the following topics:
Rate changes and impact

New activities and costs

Administrative changes

The new required 'Additional Information Form'

Expected timeframes
The infographic is a valuable resource for UK businesses claiming R&D tax relief. It provides clear and concise information on the changes to the UK's R&D tax incentive schemes and makes it easy to understand what you need to do.
To download the full infographic, click the button below: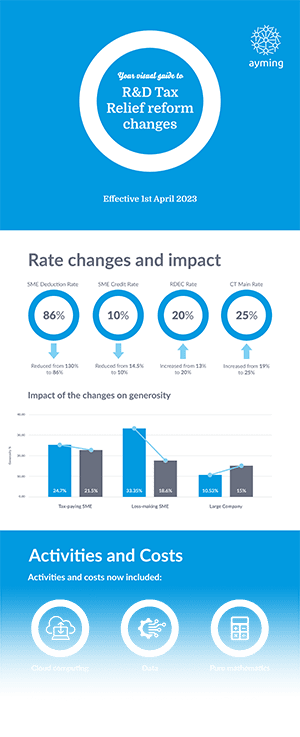 ---
Still need some more information? Here are some resources you might find helpful: