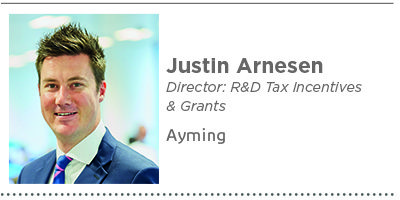 Following the triggering of Article 50, all eyes are on British business as the Brexit countdown clock starts to tick.
As Britain renegotiates its trading relationships around the world, Justin Arnesen, R&D Tax & Grants Director at Ayming argues that innovation has never been more important for survival – and outlines how businesses can utilise R&D initiatives to stay one step ahead of the competition.
The triggering of Article 50 means one thing: change. In two years' time, the UK business landscape will be fundamentally different. And companies can't expect to stay the same while the world changes around them. Innovation is the order of the day.
You only have to look at the soft drinks industry at the moment to see the power of innovation in the face of change. The Government's sugar tax, confirmed by the Chancellor in the latest Spring Budget, has completely moved the moved the goalposts for the drinks industry. And firms have been quick to respond. Pepsi Co has released two new drinks in 2017 designed around a low sugar, low calorie offering – and other firms will have to innovate in similar fashion if they want to compete.
But this issue applies across the board. With Brexit on the horizon, innovation will be crucial and every single business will need to grab the Government incentives available with both hands.
This article was first published on Global Finance & Banking Review on 10th April 2017.
---