Ayming has today launched an online tool which provides an easily digestible overview of the global R&D tax relief landscape.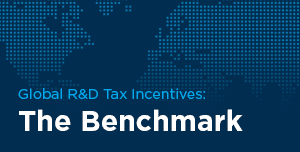 3rd October 2018: London – Ayming, the international business performance consultancy, has today launched an online tool which provides an easily digestible overview of the global research and development (R&D) tax credit landscape.
The tool, known as "The Benchmark", gives businesses an informative, simple and user-friendly guide to global R&D schemes. Complete with individual country profiles, across 14 major countries with an estimated seven more to be added, Ayming has leveraged its global R&D tax expertise to publish an independent review of the systems.
Internationally, businesses and governments are recognising the need to boost R&D investment. However, it can be difficult for companies to understand key information on R&D tax processes of specific countries, as existing comparative research is long and complex and does not provide standard comparison metrics. The Benchmark enables businesses to quickly reach an informed, high level understanding of the international R&D landscape.
Deciding on where to undertake R&D is far from straightforward. Aside from tax relief generosity, there are many wider issues a business needs to consider, such as when tax relief will be paid, ease of application and levels of scrutiny. The Benchmark has been developed with a series of comparative metrics which have considered the relevant factors. Developed by Ayming's international R&D tax experts, The Benchmark's simple visual overview belies the in-depth methodology which has allowed for the international data to be standardised and directly compared.
Martin Hook, Managing Director of Ayming UK said, "Our core aim is simple; we want to make it easier for businesses to boost their R&D spending and feel more confident they are getting the most out of the tax incentives on offer around the world. Our new tool will help companies, both large and small, to make more informed decisions on where's best for them to undertake R&D, without the hassle of reading hundreds of pages. This is part of our ongoing strategy to digitise and simplify R&D consultancy, enabling businesses to be more strategic in their approach to R&D."
The Benchmark data will be updated on an annual basis.
The tool can be found here: https://thebenchmark.www.ayming.co.uk/
-ENDS-
Notes to Editors
Ayming is a leading international Business Performance consultancy and has a global footprint. The Group is present in 17 countries: Belgium, Canada, China, Czech Republic, France, Germany, the UK, Ireland, Hungary, Italy, Japan, Netherlands, Poland, Portugal, Spain, Slovakia and USA with a staff of approximately 1,400. In 2017, it achieved a turnover of €157m.
In the UK Ayming helps businesses to improve their financial and operational performance through innovation, tax and procurement, supply chain, working capital and operational efficiency services. The R&D team has claimed more than €200m of R&D tax benefits for its UK clients and, as a Group, analyses over 15,000 R&D and innovation projects each year.
Contact
Alex Knight, Aspectus Group
+44 20 7242 8867