It's no surprise technology is transforming procurement. The key to success will be picking the right tech for the job…
The business world is in the throes of a revolution. Technologies such as big data, AI, machine learning, blockchain, electric and self-driving vehicles, and clean energy – to name but a few – are transforming business models.
Procurement is not immune from this trend. Deploying technology is seen as the most important priority for the procurement function over the next two to three years by 72 per cent of all respondents in our survey. By sector, this rises to 76 per cent of those in financial services, 79 per cent of retailers and manufacturers, and 88 per cent for transport and logistics.
Some 79 per cent of all respondents see tools and systems such as e-procurement, e-auctions, procure to pay (P2P) and spend analytics as vital to increasing value creation by procurement departments. Almost all those in retail (91 per cent) and transport and logistics (94 per cent) highlight this point. Some 90 per cent of CPOs say it is crucial, and it is also the most important priority for all types of company – publicly listed, privately owned and private equity-owned.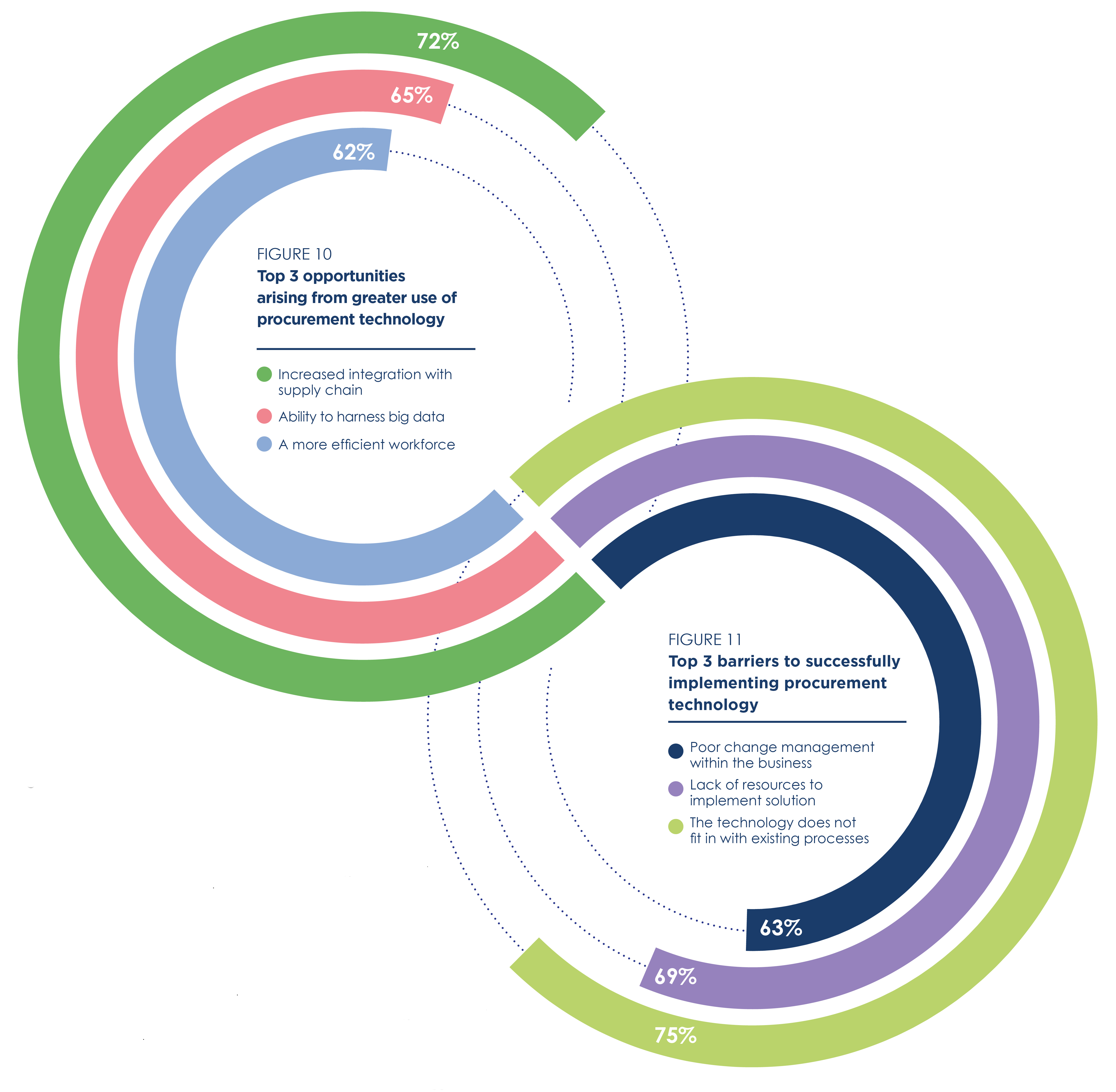 "We see fast-maturing potential in three major areas," says Paul Alexander, EMEA director of indirect procurement at BP. "The first of these is in the way we can understand data; the second is robotics and robotic process automation; and the third is artificial intelligence."
Since the turn of the century, there has been a growth in e-procurement tools that allow processes such as sending out requests for proposals, analysing bid documents and managing purchase orders to be automated. "It has changed a lot in the last 20 years. I would be surprised if anyone relies on paper processes anymore," he adds. "There is a transition to automated, intelligent systems going on."
However, technology is not always the answer. Even if a company has the best technology, it often doesn't use it properly. Indeed, more than two thirds of respondents (67 per cent) in all sectors believe their current procurement technology suite is ineffective, either because it is the wrong technology, or it is the right technology but not being used correctly or efficiently. The biggest challenges and barriers to successfully implementing procurement technology are poor change management within the business (75 per cent), a lack of resources to implement solutions (69 per cent) and technology that does not fit with existing processes (63 per cent).
However, there are huge opportunities too. These include being able to better integrate with the supply chain, which 72 per cent of respondents see as the biggest benefit of using more procurement tech. "An agile supply chain is greatly enabled by technology," Alexander says. "You can be more responsive and take informed risks because you have better visibility."
He is also optimistic about big data, which 65 per cent think would improve procurement. "It has huge potential. It allows me to see who has the best deal, what the cost of delivery is, where in the organisation demand is highest – it allows me to compare and contrast data as I have never done before. To procurement people, this is tremendously exciting."
But he warns that, "yes, we have lots of data, but it can be a fool's errand if you don't know how to use it". One of the key opportunities will be reducing wasteful procurement, he believes. "Waste is what happens when you don't have good information. If you do have good information, you can buy exactly what you need, when you need it and on good terms. People manage uncertainty by buying the wrong thing, at a high price and in volumes they don't need. The best procurement is where you work out that you don't need to buy something after all."
The importance of technology is widely acknowledged, but companies need to make sure the technology they deploy is right for their business and that it is being used in the right way. "There is no point buying a Ferrari when what you really need is a VW," says James Bousher, senior consultant  at Ayming. "Even then, the VW is a waste if you continue to walk everywhere."
Spotlight on Retail
With buying and selling at the core of retailers' raison d'être, effective procurement is integral to success…
Retail is a sector that lends itself to scale. It is a fiercely competitive business that in recent years has had to deal with an economic downturn, the arrival of discount retailers such as Aldi and Lidl in the UK, and the rise of e-commerce. This has forced retail businesses to seek value throughout the company, including in procurement. It's therefore no surprise that 43 per cent of retail respondents say their procurement model is very effective, the highest proportion across sectors by some distance.
It is also the sector where most respondents derive very high value from their procurement function (27 per cent). "In many sectors the bottom line is so far removed from the top line it is hard to clearly link value to profits. With retail, specifically goods for resale, there is a direct and immediate link from the bottom line (the purchase price) to the top line (the retail price). This really helps drive better performance." says Chris Borrow, senior manager at Ayming. Retailers buy and sell a huge amount of goods every year, so an effective procurement strategy is central to companies' success.
"Procurement as a function has grown in status and stature as the years have passed," says Graham Copeland, director of procurement at the Co-op retail chain in the UK. "The quality of our buying has led to better customer experiences. In food, for example, we've done a great job on quality."
In turn, this has translated into tangible benefits for the business. "It's had a massive impact on our like-for-like sales and we have been outperforming the competition every month for over a year," he adds.
"Retailers are ambitious and open to exploring creative procurement solutions,"concurs Niccolò Mazzoni, principal at Ayming Italy. "The findings of the survey are very consistent with our experience working with retailers across many European markets."