Are businesses' procurement operating models fit for purpose? Our survey shows a very mixed picture…
What is the difference between a good procurement organisation and an excellent one? Arguably, it is not technology, or even talent, but rather a sharply defined operating model in which different entities, geographies and stakeholders work together seamlessly.
"Procurement operating models need to evolve," says James Bousher, senior consultant at Ayming, "because procurement faces new challenges." One of these is the rapid development of new technologies. These include procurement-specific technologies that will affect the function directly, but also more general technological developments that may be even more disruptive. For example, professionals will have to procure solutions that simply did notexist before, such as blockchain-based applications, services and EDIs (electronic data interchanges). "We know these things will make the supply chain a lot more transparent, but many people do not know what they do," Bousher adds. "Until someone comes up with a product, it's hard to know exactly how  it will work, or how companies will want to use it." The organisational structure and the way procurement departments interact with the rest of the business is also crucial, Bousher says. "You may have a great team in place. But if the way they  operate and the communications between internal functions – and between the company and external suppliers – are not good, then it doesn't work."
Yet effective operating models are far from universal in procurement departments. Our survey reveals that 51 per cent of respondents do not think their current organisational structure is effective, suggesting that procurement needs to evolve to cope with the demands of today's businesses.
Effective procurement

Our survey shows that different industries have markedly different opinions on the effectiveness of their current procurement operating models. Retailers are the most confident – some 43 per cent of retailers consider their operating model to be very effective, with 18 per cent seeing it as somewhat effective. In manufacturing, 27 per cent of respondents consider their procurement model somewhat effective, with a further 24 per cent describing it as very effective. By contrast, only 15 per cent of financial services respondents consider their operating model to be very effective. And while 21 per cent of technology respondents view their procurement model as very effective, a startling 64 per cent consider it average or ineffective.
Yet out of those that think their operating model is not effective, most do not see a need to shake it up. Only 38 per cent believe they need to reorganise or revise their operating model. Instead, all sectors overwhelmingly (75 per cent) favour training programmes to upskill existing talent, with greater use of procurement-specific technology a distant second (41 per cent).
The strategic function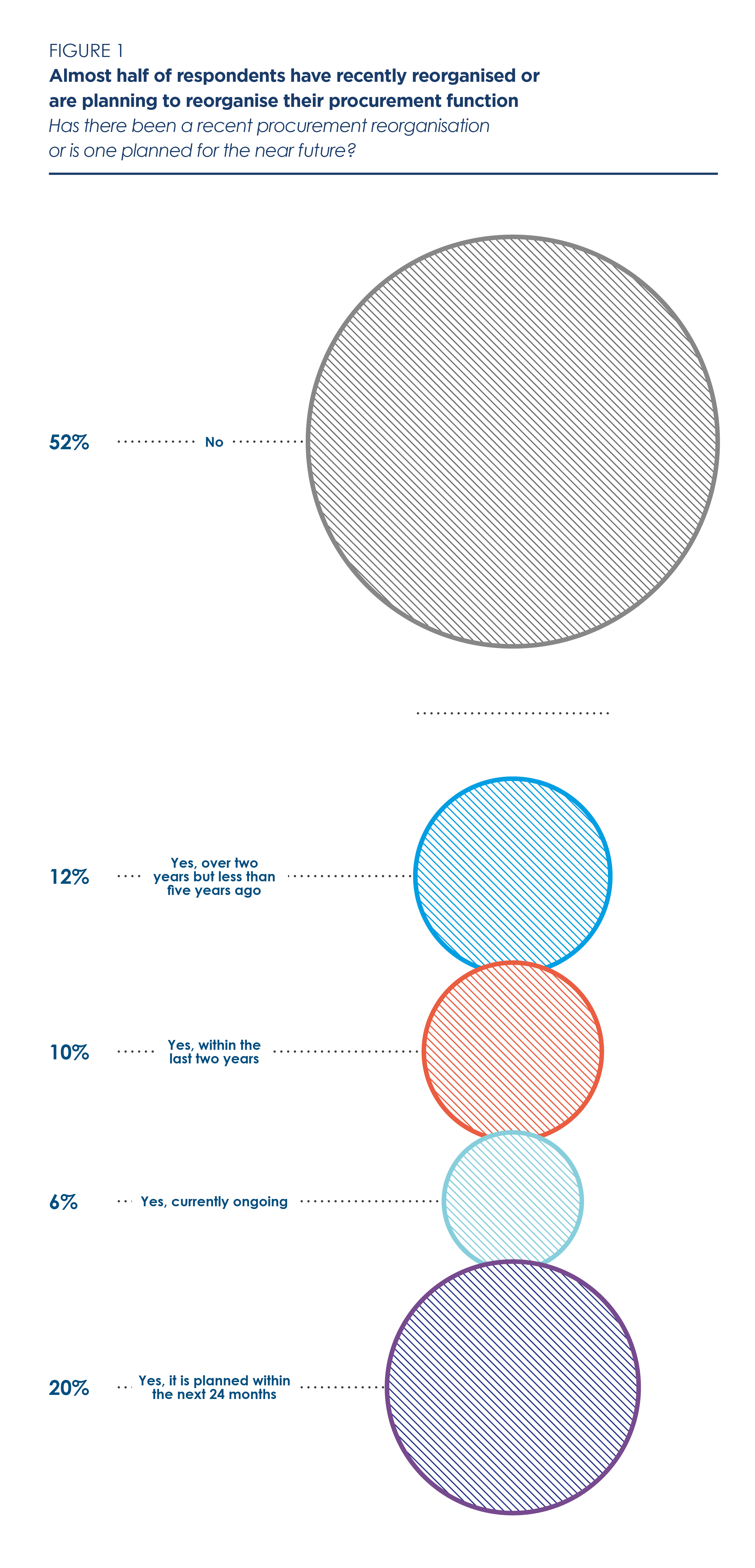 Accelerated by the financial crisis, when companies realised it was easier to improve profits by cutting inefficiency than by lifting sales, the focus on procurement has been increasing. "Procurement continues to become more strategic," says Alejandro Alvarez, director of operations performance at Ayming. "Companies that have seen the value that can be driven from good procurement would say it is now a strategic priority. Savings are not a particularly high focus. It's more about service delivery." To respond to this new imperative, procurement teams need to step up and take on that strategic role. "Anyone in procurement needs to seize the day," says Paul Alexander, EMEA director of indirect procurement at BP. "There is a change in the relationship between procurement teams and the rest of the business."
Only 17 per cent of those surveyed say procurement is entirely strategically focused (i.e. viewed as an integral part of the business leadership, providing input into the business strategy), although this varies starkly between sectors. An impressive 91 per cent of manufacturing firms say procurement is either mostly or entirely strategically focused, yet not a single respondent from technology or financial services says the same. Indeed, a massive 68 per cent of financial services respondents view their procurement function as either primarily or entirely functional and reactive.
However, almost half of those questioned say they either have or are planning to redesign their operating model soon. Healthcare companies are most likely to be changing their model, with 67 per cent highlighting revamp plans.
Of those not planning a change, 77 per cent believe that procurement has a strategic role to play but only half (52 per cent) think the department is somewhat or very effective. This suggests that a significant proportion of respondents think their procurement teams are playing a strategic role in the company, but not very well, or that they lack the initiative or skills to change things for the better.
This is backed up by the fact that only 19 per cent say their organisation has leveraged or driven significant value from procurement in recent years. Retailers (27 per cent) and transport and logistics firms (27 per cent) are most likely to have done so and are also most likely to say that creating value was a core part of their strategy, at 42 per cent and 53 per cent respectively. Technology (39 per cent) and manufacturing (36 per cent) are most likely to report limited value from procurement.
When ranked by size, unsurprisingly, the very largest companies are most likely to report high or very high value (36 per cent) from procurement. This is reflected in strategic priorities – 70 per cent of these respondents include creating value through procurement as a core part of their strategy for the coming two to three years. By contrast, only 35 per cent of smaller businesses say that procurement is key to creating value.
As you might expect, respondents with direct responsibility for procurement – CPOs and COOs – are most likely to say value creation through procurement is a core part of business strategy, at 48 per cent, while just over a quarter of CEOs (28 per cent) and CFOs (26 per cent) say the same. This points to a gap in alignment between procurement and the rest of the business – although this may simply be because CEOs have more than just procurement to worry about.

Increasing value creation

The survey highlights a number of options that would allow procurement teams to deliver value, including: increased proactivity; increased professionalism; people and skill development; and redefinition or reorganisation.
Introducing new tools and systems is most popular, with almost 80 per cent of respondents choosing it. By sector, it is particularly important for transport and logistics (94 per cent), retail (91 per cent) and financial services (85 per cent). All members of the C-suite surveyed say new technology is important, but especially procurement chiefs, 90 per cent of whom cite it as a priority. Some 70 per cent of CFOs think it is more important for procurement to be involved early in areas such as new product development (the second-most popular requirement), with bigger budgets also popular (61 per cent).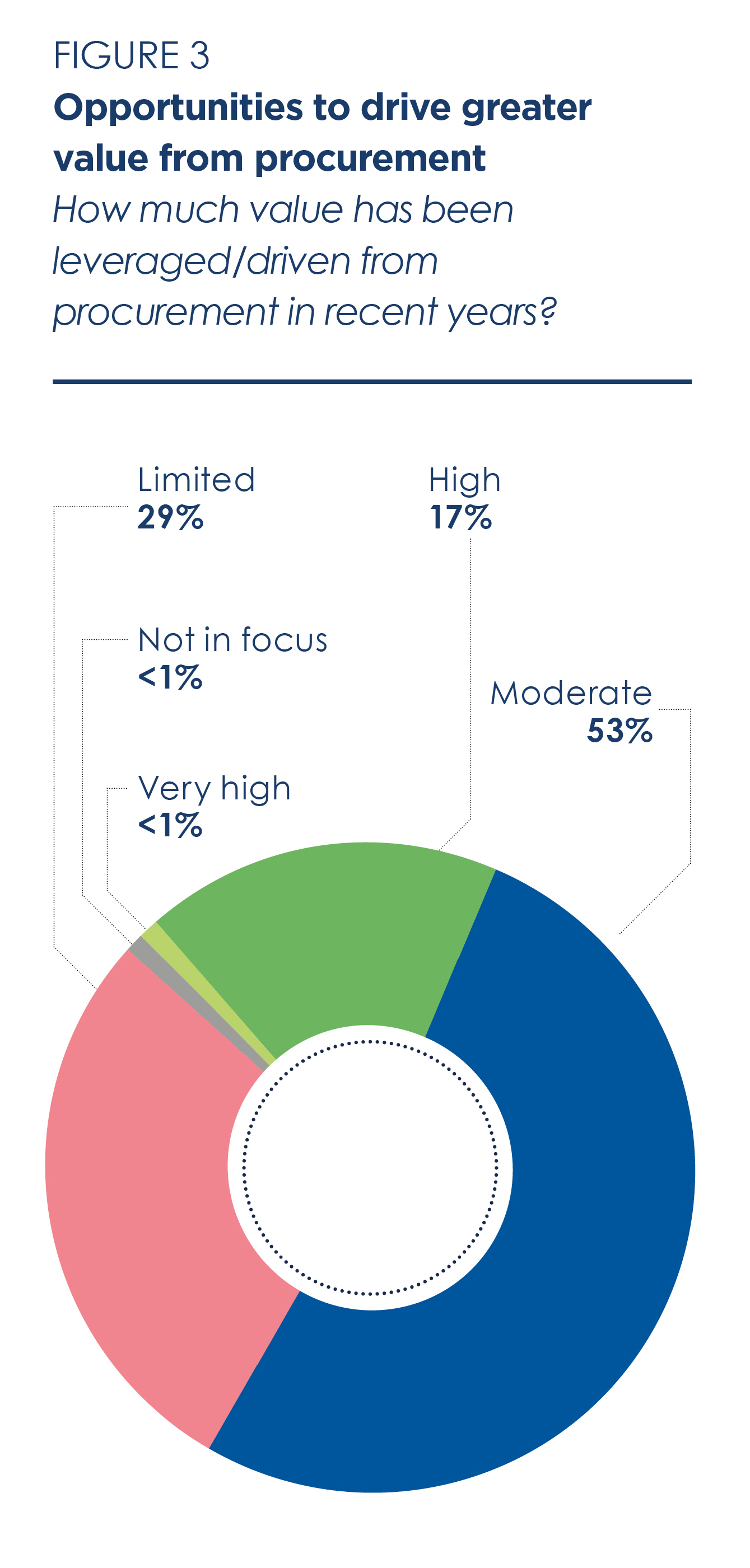 These findings suggest that procurement teams do not necessarily communicate well with the rest of the business. They need to shake off the widespread perception that procurement is just a paper-pushing function. "If the right ways of working are not embedded, it's difficult for the department to be effective," says Alvarez. "In some ways, the job of the procurement function today is to project manage, coordinate and gather the needs of the company, then convey that to the market. The overall objective is to improve customer experience, provide better services and more value to the rest of the company."