September 2020
A selection of the month's news stories curated by the team at Ayming, along with their expert insights. This month, the team provide their thoughts on the new government procurement measures to prioritise social value, and the dramatic transformation of UK PPE production.
---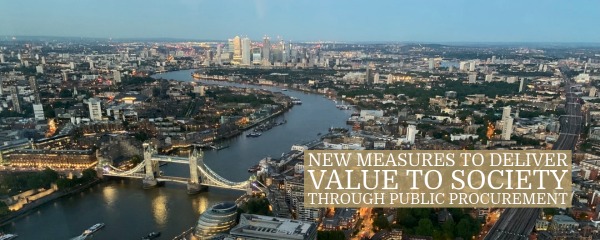 New measures to deliver value to society through public procurement
"Social value considerations had started creeping into some public sector procurement events in recent years but, with this announcement of new government procurement measures, it will become the norm from 2021. Reading this press release, one interesting thought comes to mind: how well equipped are public bodies at ensuring the social value they are scoring in tenders is actually delivered. Ensuring buyers are qualified enough to use the social value principles is highlighted and is important, but equally important is ensuring contract managers are adept at implementing and extracting the social value in the long term.
Having spoken to some local council procurement teams who have implemented similar social value measures in contracts, there is always a nagging doubt as to whether they were ever fully delivered by contract managers. Ensuring that the social value scores are fair to SMEs, implementable and, most importantly traceable is key to ensuring this doesn't become a box ticking exercise."
Grace Maturi. Manager, Ayming
Article in focus: https://www.gov.uk/
UK Government confirms supply chain plan in COVID-19 battle
"A short article this one, but one that has me channelling my inner Steven Levitt. The move from 1% of the UK's total PPE to 70% in 10 months is a huge, market-altering swing that, in the current context, the government are right to celebrate. It's the perfect example of the micro economic principles of demand and supply. Given the cost of labour in the UK, it's unlikely that these suppliers were producing PPE and exporting it. This means they've pivoted their production capacity and, importantly, their supply chain to meet the demand and are likely being rewarded handsomely with lucrative government contracts.
What will be interesting to track though, is how strong those pivoted supply chains are in the long run. As we all hope that demand falls in the coming months and years, it will be important that those within government procurement, so keen to celebrate the growth of this industry, properly plan the decline of it. Certain procurement measures could help to stop a supply chain shock occurring, further damaging the economic recovery."
James Bousher. Director, Ayming
Article in focus: https://www.supplychaindigital.com/
---

Using Location Technology to Achieve True Supply-Chain Visibility
As pandemic-hit international supply chains look to get back on their feet, executives face tough choices…
Full story: https://www.supplychainbrain.com/
Coca-Cola's approach to dedicated operations amid market swings
When volumes tanked, the beverage maker found other ways to keep trucks moving…
Full story: https://www.supplychaindive.com/
Philips: Setting the bar for sustainability
Dutch multinational Philips recently found that only 10% of its suppliers complied with all of its sustainability criteria…
Full story: https://www.procurementleaders.com/
---
Month in focus - Signup
Sign up to receive a selection of the month's news stories curated by the Procurement & Supply Chain Management team at Ayming along with their expert insights.