May 2021
A selection of the month's news stories curated by the Procurement & Supply Chain team at Ayming, along with their expert insights. This month, the team explores the vulnerabilities of supply chains exposed by the pandemic, and examines the danger of digital and cyber attacks to suppliers and businesses.
---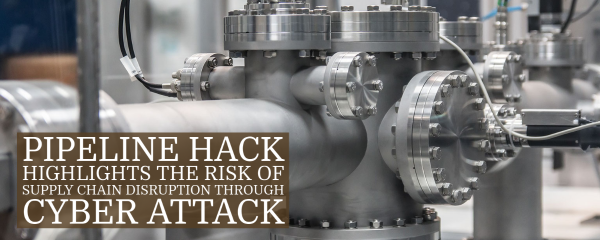 Pipeline hack highlights the risk of supply chain disruption through cyber attack
The recent cybersecurity attack on Colonial Pipeline caused a shortage of fuel supply across the United States, created panic around fuel price increase for the end consumer, and impacted competitors' supply chains. This hack raised awareness around the danger of digital and cyber threats to suppliers and businesses.
With a world more and more connected, no sector is immune to such threats that can paralyse business activities for days with a cascading impact on clients and suppliers. Thus the importance of investment in IT infrastructure and technologies to limit the risk around cybersecurity.
By working together, Procurement, Supply Chain and Information Technology can ensure systems with the highest criticality have strong protection against ransomware while remedial actions are known to cope with this disruptive incident.
Cyberattack on critical energy infrastructure has become more common and will keep happening, increasing in intensity and spreading across all sectors. Ensuring the risk against ransomware is assessed, and a business continuity plan in place is the first step to counter the devastating effects these threats have on businesses.
Laurie Franquesa, Senior Manager, Ayming
Article in focus: https://www.supplychainbrain.com/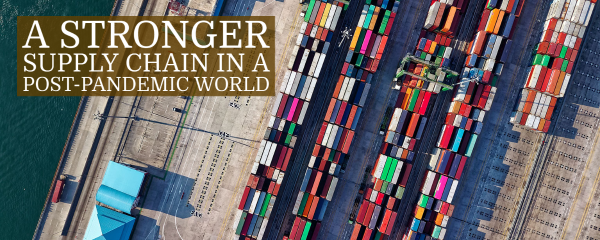 A stronger supply chain in a post-pandemic world
The COVID-19 pandemic has exposed the vulnerabilities of supply chains. Management must use this opportunity to thoroughly identify weaknesses and potential risks to make their business more resilient and adaptable to change.
Trade restrictions and shortages of commodities throughout the pandemic have resulted in economic nationalism – a prominent example being vaccine nationalism. There is an increasing political pressure on businesses to de-risk their supply chain by focusing on domestic production, using a local supply base and increasing employment growth within their home countries.
However, economic nationalism will not make supply chains more adaptable to unprecedented supply chain issues and potentially impact magnifying vulnerabilities in business continuity plans.
In reality, the diversification of suppliers and the supply chain, identifying and resolving weaknesses and harnessing technological advances will allow management to make their business more resilient. All of which is more effective on a global scale. It is increasingly important to understand failure points within the supply chain and have strong business continuity plans to weather a post-pandemic world.
Melanie Patrick, Senior Consultant: Operations Performance, Ayming
Article in focus: https://www.hbr.com/
---

Gartner Announces Annual Supply Chain Top 25
Gartner has announced the 17th edition of the 2021 Supply Chain Top 25, ranking the best organisational supply chains of the year…
Full story: https://www.supplychaindigital.com/ 
Convoy Releases Inaugural Corporate "Ship Responsibly" Sustainability Report
Digital freight network announces goal to eliminate an additional 3 million pounds of carbon emissions in 2021 underscoring Convoy's commitment to sustainable freight shipping…
Full story: https://www.supplychain247.com/
Commodities boom sends bulk shipping costs to decade highs
China's 'insatiable appetite' for iron ore is key factor in surge in dry bulk index…
Full story: https://www.ft.com/
---