March 2021
A selection of the month's news stories curated by the Procurement & Supply Chain team at Ayming, along with their expert insights. This month, the team explore the impact of the recent Suez blockage on the nature of global supply chains, and provide their thoughts on changing behaviours in online shopping.
---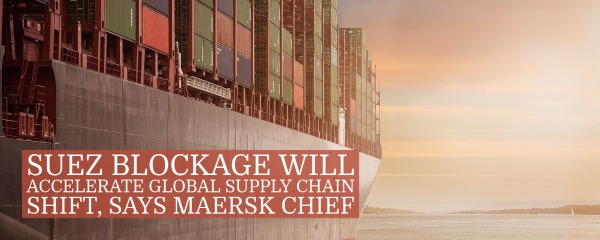 Suez blockage will accelerate global supply chain shift, says Maersk chief
"The saga of the Ever Given's beaching will probably end up as little more than an end of year quiz question, but it does raise questions about the scale and nature of global supply chains. Just-in-Time (JiT) supply chains have long been seen as a significant way of reducing stock and driving a competitive advantage. Perhaps though, the early adopters in Japan who saw such a benefit in the 1970s failed to appropriately judge the impact sharing their perfectly in tune operations would have in the long run.
If only a handful of companies are working on a JiT basis, there is probably slack in the system should something go wrong for them to take advantage of it. A supplier can push an order for a customer they know has a lot of inventory, to try and meet the JiT customer's requirement. If everyone starts moving to a JiT system, then any redundancy is lost and the supplier needs to choose between customers or split volume. We're seeing the benefits that a Just-in-Case model – holding stock in case of the myriad of things that could disrupt supply chains in today's world –  increasingly at the moment: Covid shutdowns, the semiconductor shortage and now the Ever Given.
What will be most interesting is if we start seeing a cyclical shift between the two different models: periods of "normality" prompting companies to try and cut down their balance sheet and periods of crisis seeing companies puff up their balance sheet. Or are events like this just part of our "new normal" that we need to learn to deal with by having more inventory? Given the old idiom that "cash is king", I'm going to guess that we're still going to be talking about the impact of these crises for time to come."
James Bousher. Director, Ayming
Article in focus: https://www.ft.com/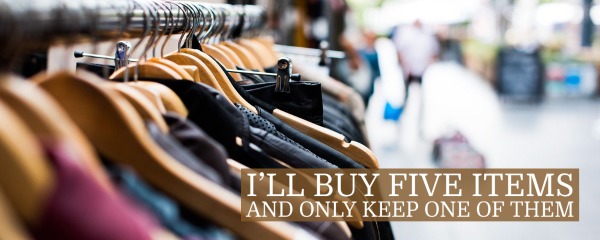 I'll buy five items and only keep one of them
"The increase in online ordering of goods has been unprecedented in the last year, however this has caused a headache for some retailers as there has also been an increase in goods being returned. This has had a particular effect on clothing retailers as consumers are unable to try clothes on and therefore order multiple sizes which are then being returned. Extended return policies, coupled with postal delays is affecting the resale value of many products and resulting in many garments going to landfill – not so good for their sustainability agenda.
One ASOS employee recently documented the returns process of an item of clothing, and surprisingly 97% of ASOS returns are resold with 3% passed to ASOS partners to be recycles or reused.
ASOS have a zero landfill policy and the transparency around this and the returns process has hit the mark with ASOS consumers, who are becoming increasingly aware of the problems with fast fashion and wanting to educate themselves more on where their clothes come from and retailers policies relating to sustainable fashion.
Pressure has been increasing on clothing retailers to properly assess their sustainable agenda and hopefully we will see further changes and increased transparency in the near future."
Grace Maturi. Manager, Ayming
Article in focus: https://www.bbc.co.uk/
---

5G, IoT and the new supply-chain challenges
During a period of unprecedented demand, fueled by a newly at-home public's reliance on e-commerce, all aspects from production to shipping were stretched to their limits…
Full story: https://www.supplychainbrain.com/
Procurement's place at 'centre of the spider's web'
Automated processes, sustainability, supplier-centricity and becoming an information centre are the key procurement trends for the next decade, according to a procurement leader…
Full story: https://www.cips.org/
Volkswagen reduces supply chain sustainability risk with AI
Volkswagen, Porsche and Audi harness artificial intelligence (AI) to identify sustainability risks in the supply chain…
Full story: https://www.supplychaindigital.com/
---
Month in focus - Signup
Sign up to receive a selection of the month's news stories curated by the Procurement & Supply Chain Management team at Ayming along with their expert insights.