July 2020
A selection of the month's news stories curated by the team at Ayming, along with their expert insights. This month, the team provide their thoughts on the logistical challenges of a COVID-19 vaccine, and how global food supply must adapt to ensure environmental sustainability.
---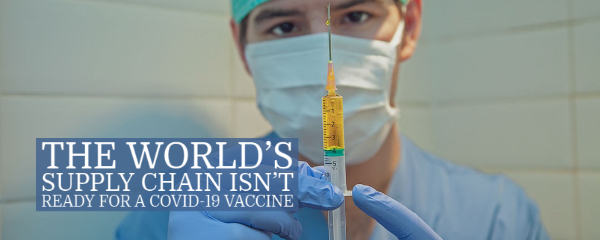 The world's supply chain isn't ready for a COVID-19 vaccine
"The whole world is waiting fervently for the creation of a COVID-19 vaccine to solve our global economic woes, but it will be interesting to see the extent of any growing pains once (or if) one is developed. It's becoming clear that supply chains which are freight heavy, especially air freight, are being hit massively by the changes occurring in the aviation industry. It'll be important going forward for the industry to prepare for the logistical impact of any vaccine.
What will also be important is that any industries which have raw materials, or other supply chain requirements, that compete with a potential vaccine are adequately prepared. If you're a freight provider and have the choice between offering precious cargo space to a vaccine or some other product, what is more likely to get preferential treatment…? This is before any governments get involved and start mobilising powers such as the Civil Reserve Air Fleet in the US or buying up all possible commodity options and manufacturing capacity. The most proactive should celebrate the global implications of a vaccine but also take news of use a vaccine creation to ramp up their inventory and be sure that any logistical ripple effects do not impact them in the short term."
James Bousher. Director, Ayming
Original Article: https://www.bloomberg.com/news/articles/2020-07-25/the-supply-chain-to-save-the-world-is-unprepared-for-a-vaccine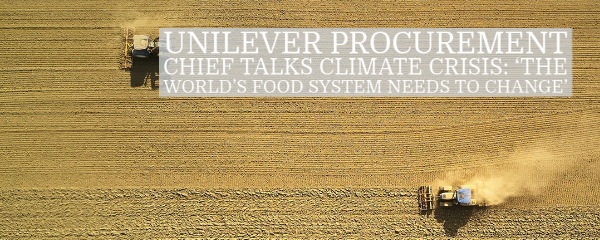 Unilever procurement chief talks climate crisis: 'The world's food system needs to change'
"It's great to see that Unilever is joining Apple, Microsoft and the increasing number of companies that are committing their supply chains to become carbon neutral. It's even more encouraging to hear that the procurement function is being instrumental in this process, and is becoming an ESG value source beyond traditional savings and contracting targets.
I'm interested in two aspects of this: how it will flow through the supply chain and how it will be scalable down to companies that aren't billion dollar behemoths. Unilever are doing a great job themselves by switching to renewable energy and partnering with vendors who are themselves committed to being carbon neutral; hopefully it won't create any adverse effects where small suppliers that cannot commit to these targets are shuttered off in favour of larger corporations who can just buy carbon credits. Even more so, hopefully it doesn't lead to some smaller vendors to actively choose not to be ESG conscious so that rock-bottom prices can become their competitive advantage.
This links to my second point – how are procurement teams in smaller organisations, or more cost conscious organisations, going to be targeted to deliver ESG aims when they may be in conflict with cost targets? Unilever can act as a market mover and shift their suppliers to work with them; the thousands of companies less than a hundredth of their size don't wield the same level of power."
Alejandro Alvarez. Partner, Ayming
Original Article: https://www.foodnavigator.com/Article/2020/07/16/Unilever-procurement-chief-talks-climate-crisis-The-world-s-food-system-needs-to-change
---

How a small-batch distillery improvised a hand sanitizer supply chain in 72 hours
When hand sanitizer was in short supply, nontraditional producers retooled operations and worked with suppliers to fill the gap.
Full story: https://www.supplychaindive.com/
Japan is figuring out how to deliver goods untouched by humans
Getting products from one place to another with as little human contact as possible is becoming an imperative for businesses as retailers, warehouses and transport providers adapt to the coronavirus pandemic…
Full story: https://www.supplychainbrain.com/
Largest CO2 producers join forces to cut supply chain emissions
Several of Australia's largest greenhouse gas emitters have joined forces to cut supply chain emissions.
Full story: https://www.cips.org/
---