Do CPOs and their CEOs see eye to eye on how procurement can deliver value to the business?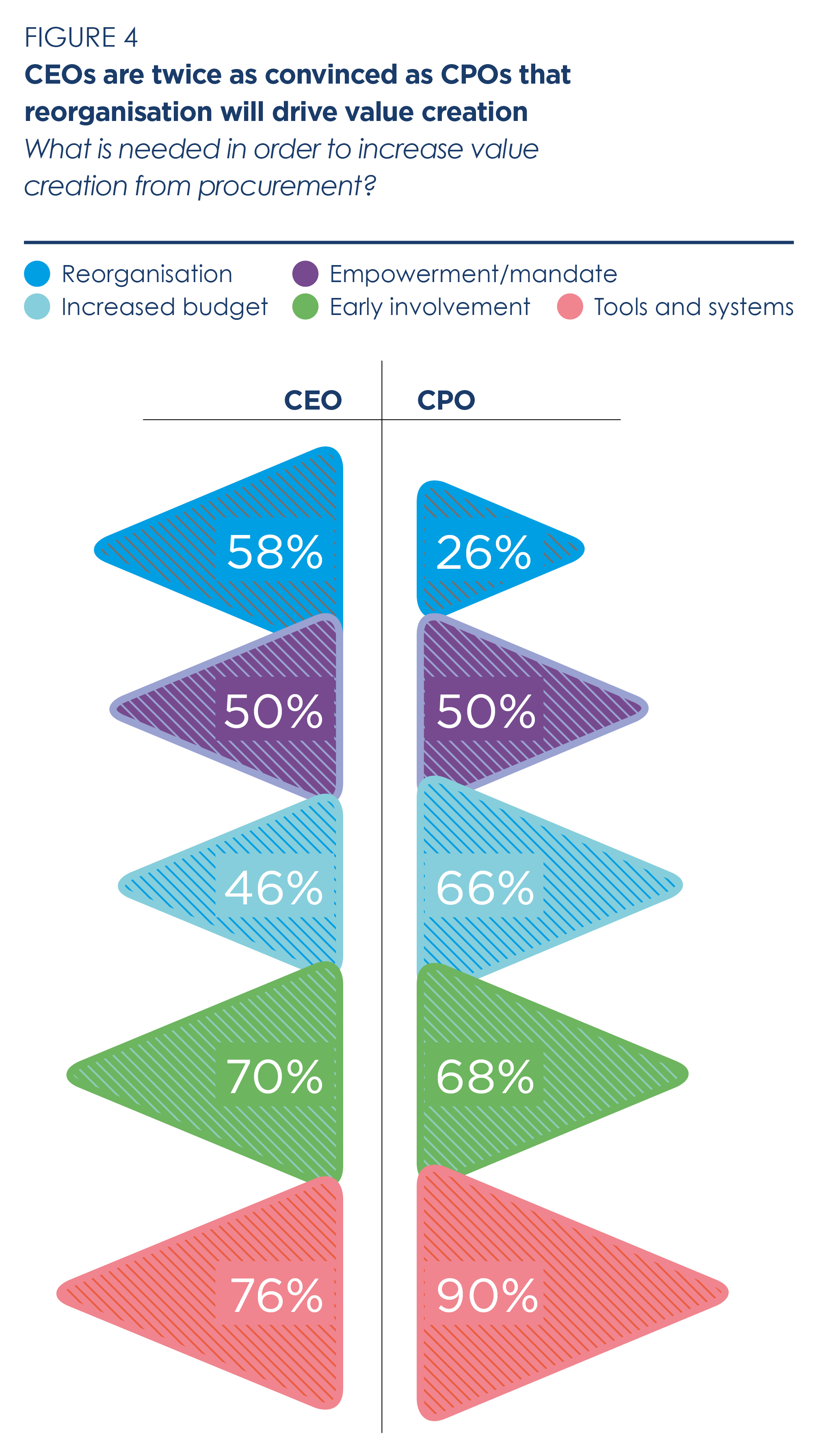 Our survey reveals a number of differences in opinion between chief procurement officers and chief executives, with CPOs often much more positive than their bosses about their departments.
While this is no great surprise, it creates some dangers for procurement teams; they may feel they cannot do the best job possible, either because they are focusing on different goals to the leadership team or they lack resources and management support.
When it comes to the most important objectives for the next two to three years, 58 per cent of CPOs say that delivering savings is a key concern, but only 42 per cent of CEOs agree. Almost half of CPOs (48 per cent) believe that creating value through procurement or cost savings will be part of their company's core strategy in years to come – significantly higher than the 28 per cent of CEOs who share this view.
There are also divergent views on how procurement departments can become more effective. For 90 per cent of CPOs, new technology is the answer, with just 26 per cent seeing the need for a reorganisation. Conversely, 58 per cent of company bosses emphasise reorganisation. And while 66 per cent of procurement teams are pushing for an increased budget, only 46 per cent of CEOs agree this is the solution.
Chris Borrow, senior manager at Ayming, says: "The strong preference of CPOs for new technology highlights a common theme: seeking new technology – an external fix – as a panacea for underperformance, thus deflecting blame away from internal issues. The reality is that improvement might often be better achieved via internal change, something it seems CEOs more readily recognise."
There is also a significant mismatch of opinion on how prepared procurement and supply chain functions are to deal with the risks they face. While 44 per cent of CPOs say they are prepared and have actions already in progress, just 16 per cent of CEOs agree with this.
This highlights the need for procurement to communicate better with the wider business. Given that just six per cent of CPOs surveyed are part of their executive management team – with not a single financial services company or retailer having CPO representation at board level – it is vital that procurement promotes itself more effectively.
"You sometimes hear procurement teams saying that they don't have a mandate," says Hervé Amar, group president of Ayming. "But they need to earn that mandate. Procurement needs to earn its seat at the top table. It is important that expectations are aligned between CPOs and CEOs."
To this end, CPOs must focus on more than just delivering cost savings. They need to ensure that their objectives are in line with the rest of the business, to deliver services that help the business grow and provide what the business needs at the best possible value. If procurement is not aligned with the wider company strategy, it makes it even more difficult for the department to earn its mandate – and its place at the top table.
---